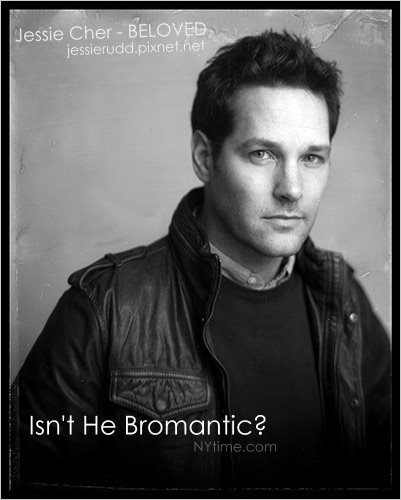 Isn't He Bromantic?
By DENNIS LIM
Published: March 12, 2009
FANS of Paul Rudd have not gone wanting in recent years: he has popped up with comforting regularity in movies big and small, on television sitcoms and sketch shows, and he leaves an impression, however tiny the role. But they have had reason to wonder why this good-looking, likeable, quick-witted actor has so often played the sidekick and not the romantic leading man.
Their wait is now over — sort of. Mr. Rudd is front and center in his new comedy, but as its title proclaims, "I Love You, Man" is less interested in the relationship between the hero and his bride-to-be than in the deep and true (but strictly nonsexual) feelings he has developed for his new best buddy.
點頭如搗蕀!!
      The wait is now over. 希望Paul的未來會更好。
      現在就看這一仗囉!《I Love You, Man》加油!
The movie, which opens Friday, fits squarely within the current vogue in American comedy for what sociologists would call homosocial intimacy and what MTV and trend-article writers have termed the bromance. It also provides what could be a touchstone role for Mr. Rudd, whose career has, in its unassuming way, summed up the charms and contradictions of modern masculinity.
In his breakthrough film, Amy Heckerling's "Clueless" (1995), he played Alicia Silverstone's older stepbrother, a college student who reads Nietzsche, listens to Radiohead and wears an Amnesty International T-shirt: catnip for sensitive teenyboppers. He has since evolved from all-American boy next door to menschy goofball in a series of roles that have bolstered his guy's-guy credentials. In his work with the filmmaker David Wain, from the cult favorite "Wet Hot American Summer" (2001) to last year's "Role Models," he revealed a gift for hipster absurdism. And in vivid supporting parts in Judd Apatow's movies — as a lovesick loser in "The 40-Year-Old Virgin" and an alienated husband in "Knocked Up" — he located real emotion beneath the wisecracking bravado.
Mr. Apatow is not involved in "I Love You, Man," which was directed and co-written by John Hamburg (who directed "Along Came Polly" and was a co-writer on "Meet the Parents"). But this is a film in which the love-between-men subtext of the Apatow movies becomes text. Mr. Rudd's character, Peter, is a sweet-natured Los Angeles real estate agent, so devoted to his girlfriends — the latest of whom (Rashida Jones) he is about to marry — that he has never had time to cultivate male friends. With a wedding to plan but no best man, Peter embarks on a search for a same-sex soul mate, and finds him in the lumbering form of Sydney (Jason Segel, another Apatow veteran), who schools him in the pleasures of regressive dude bonding in the privacy of Sydney's "man cave."
Peter is the nominal straight man to Sydney's uninhibited overgrown puppy, but much of the film's humor stems from Peter's sheer social clumsiness. His verbally spazzy attempts at chummy hep talk — partly improvised by Mr. Rudd — result in apropos-of-nothing nicknames ("Jobin") and nonsense catchphrases ("totes magotes") that he realizes are mortifying as soon as he utters them. "Awkwardness is such a gold mine for comedy," Mr. Rudd said during a recent interview at a restaurant in the meatpacking district of Manhattan. "The thing that's interesting about this character, hopefully, is that he knows how lame it is and still does it."
Mr. Rudd, who turns 40 next month, said he always had a high threshold for embarrassment (and, like most comics, a craving for attention), dating back to his teenage years in Kansas. "I went through a phase where I thought it was really funny to make pratfalls in very crowded places." He added, "And I jumped out of a moving car once for a laugh. That was a mistake."
Looking good or being cool on screen does not top Mr. Rudd's agenda. "Paul is the least self-conscious actor I've ever seen," Mr. Hamburg said. "He's not afraid to look stupid."
He definitely does not seem to need much encouragement to strip down for comic effect: the closing sequence of "The 40-Year-Old Virgin," a Rolling Stone photo shoot, a "Saturday Night Live" skit with Andy Samberg in which their crotches were pixelated. And Mr. Rudd has livened up many movies (most recently Ms. Heckerling's straight-to-DVD "I Could Never Be Your Woman") and talk-show appearances ("The Daily Show With Jon Stewart" a few months ago) with a flamboyantly geeky dance routine, a crowd-pleasing gambit that dates to his youthful career as a bar mitzvah D.J.
The playwright and filmmaker Neil LaBute, who met Mr. Rudd when they were students at the University of Kansas and worked with him on the play "Bash" and in the stage and movie versions of "The Shape of Things," also pointed to Mr. Rudd's "fearlessness."
"He really connects well with an audience — people want to like him," Mr. LaBute said. "But he's got his subversive side that enjoys taking on audience expectation and turning it on its edge." In person Mr. Rudd is, as Mr. LaBute put it, "someone who's exactly what you expect him to be": funny but not a ham, keen to assert his regular-guy bona fides. Arriving a few minutes late for the interview he apologized that a magazine photo shoot had ended late, then caught himself. "God, that sounds so pompous," he said, rolling his eyes.
Early in his career Mr. Rudd's boyish looks and perceived niceness worked against him, at least when it came to roles that called for a comic edge.
"As a goofy nerd," Mr. Apatow said, "I have a natural aversion to cute funny guys. I didn't meet him until he showed up at the audition for 'Anchorman' overweight, wearing an ugly '70s suit and real muttonchops and 'stache. That's when he stole my heart forever."
Although he is now a fixture in the slacker-comedy universe, Mr. Rudd does not quite fit alongside the schlubby likes of Seth Rogen and Mr. Segel. His performances are interesting precisely because of the tension between his surface normalcy and the eccentric weirdness that often comes through. What's more, the apparently mixed messages about male sexuality in his filmography could fill a graduate thesis. He is the rare straight actor to have played a serious gay role early in his career — in 1998's "Object of My Affection" ("I figured everyone thought I was gay anyway," he said) — but also seems compulsively drawn to gay jokes, a hallmark of buddy comedies, and is usually shrewd enough to make them register as lampoons of homophobia.
There is the "do you know how I know you're gay" bit that he and Mr. Rogen improvised for "The 40-Year-Old Virgin." ("We're the idiots in the scene," Mr. Rudd said.) When he hosted "Saturday Night Live" in November, almost every skit had some gay humor, prompting bloggers to call the episode a "gay minstrel show."
Mr. Rudd, who can also be seen suggestively sniffing Mr. Rogen's ear in the current issue of Vanity Fair, said he didn't realize the theme was so dominant until after the show, and that some parts were conceived as responses to the passage of Proposition 8 in California. "Somebody might consider something gay, but to me it's just silly," he said. "Andy Samberg is painting me naked? That's not gay, that's ridiculous." (Mr. Samberg plays Mr. Rudd's gay brother in "I Love You, Man.")
"I Love You, Man" has a requisite moment of gay panic, when one of Peter's "man dates" turns out to have carnal designs, but for the most part the movie is content gently to mock Peter's less-than-masculine tendencies like his love for the chick flick "Chocolat." Mr. Rudd, who sees a little of himself in Peter, said he happily occupied a middle ground between macho and metrosexual. "I can talk about sports and stuff," he said. "But I have a season pass for 'Antiques Roadshow' on my TiVo. And I can talk to you about all the seasons of 'Project Runway' and do it without any shame."
Mr. Rudd's arrival as a comic actor was also a return to his first love. Growing up, he was a fan of Steve Martin, Mel Brooks and George Carlin. But he decided to pursue classical theater at the American Academy of Dramatic Arts in Los Angeles. (He also spent a summer studying Middleton and Marlowe in London, abandoning a regular gig on the television series "Sisters," to the horror of his agent.) "I wanted to do things with integrity," he said. "I wanted to be a respected actor."
After the success of "Clueless" he left Los Angeles for New York to appear in "The Last Night of Ballyhoo" on Broadway. "All the actors I liked did plays," he said, not just the giants of the British stage but American veterans like David Strathairn and Tom Hulce. He has been a New Yorker since — he lives in the West Village with his wife, Julie, and their 3-year-old son — and has continued to do theater work, most recently opposite Julia Roberts in "Three Days of Rain."
"I was always trying to think big picture," he said. His eclectic résumé ranges from prestige art-house fare (Lasse Hallstrom's "Cider House Rules") to small indies (Jesse Peretz's "Chateau," Katherine Dieckmann's "Diggers") to a Hong Kong shoot-'em-up ("Gen-Y Cops 2," in which he sports blondish locks and fights a giant robot). Up next are two small parts: he voices a character in "Monsters vs. Aliens," due later this month, and plays Abel in "The Year One," Harold Ramis's Old Testament comedy.
"Early on I decided I would see if I could make a career work on my own terms," Mr. Rudd said. "And I feel I've remained true to myself for the most part." What he values most now is "getting to work with a lot of friends," he said. "Life is short. I want to like the process."
NYTIME.com