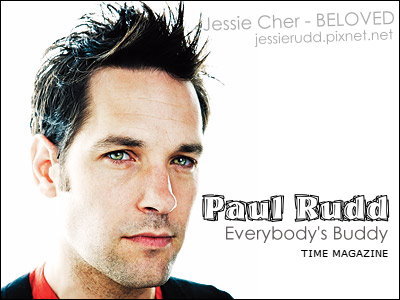 Paul Rudd: Everybody's Buddy
By Joel Stein
Thursday, Mar. 12, 2009
Paul Rudd doesn't seem like a leading man until you remember that some men star in movies with other men. Bob Hope didn't beat up criminals or woo ladies, and likewise, Rudd, who at 5 ft. 10 somehow projects 5 ft. 6, has found the perfect expression of his charming, nonthreatening slyness in the buddy comedy. After playing a lot of leading men's friends (The 40-Year-Old Virgin, Knocked Up) and nice guys embraced by leading women after they've come to their senses (Friends, Clueless), Rudd has graduated to playing the lead. He did it in last year's Role Models with Seann William Scott, and he's doing it again in I Love You, Man with Jason Segel, out March 20, in which he plays a guy who has been so focused on his girlfriends that he has no male friends. So his fiancée sends him out in search of a best man, which Rudd approaches with the earnestness of a man oddly comfortable being on the gayest journey ever.
But I wasn't buying the premise: that a straight adult male can successfully troll for straight adult male friends. Men are genetically programmed to shed friends once they get married, not add them. "If my dad had social engagements, it was my mom who arranged them," Rudd says. "But I never had a problem making friends." So, sitting in a booth at the Half King bar in New York City, two beers down, we decide to see if we can pull it off.
For the first half-hour, all the guys we like walk right by, piling into the back of the bar for a reading by debut novelist Stephen Lovely. I wonder if maybe we should have gone to a sports bar, but Rudd seems to know what he's after. "If we went to ESPN Zone — that's not our kind of guy," he says. "We want someone nerdy. Bookish. Probably wears Chuck Taylors. Can make jokes about the fact that he's listening to the new Fleet Foxes CD. Maybe a little fey. I love straight guys that seem gay. I'm a little like that."
He is. But for a soft guy, his comedy can be pretty dude. He's both the kind of guy who indulges his 4-year-old son's habit of dressing up in three-piece suits and one whose friends view a TIME magazine article as an opportunity to tell embarrassing stories about him. "He always liked to get naked. Anybody that lived in his fraternity house would tell you. And yes, he is a frat boy, no matter how much he would go screaming from that now," says sportscaster Joe Buck, who, along with Mad Men star Jon Hamm, has known Rudd since their college days. Buck says the ass-slapping, gun-shooting dance Rudd did with Beyoncé when he hosted Saturday Night Live in November was his typical way of leaving a room in college. He built on those skills when he moved to L.A. after graduation, deejaying high-end Bel Air bar mitzvahs. "He was known as the guy who did the dork dance," Buck says. Even then, with his mullet and Duran Duran jacket, people thought he was cool. "He's adorable. There's no two ways about it," says Hamm. For an adorable guy, though, Rudd has depth. "He has a bit of a postmodern Jimmy Stewart quality. He's an everyman who has a dark side that peeks out from the edges," says Donald De Line, a producer of I Love You, Man.
Eventually a guy walks into the bar who looks about right. "Glasses — that's a plus," Rudd says. "And some sort of a knapsack." But suddenly Rudd's training from the film deserts him. "What do we do?" he asks. "Make eyes at the guy? Hold a gaze a little long? How do we initiate it?" After a while, Rudd gets up and asks the bookish guy if he wants to sit with us. Two minutes later, Sammy Politziner, 31, an investment banker, and Rudd are talking about the University of Michigan football team, quoting Steve Martin movies and comparing outfits by looking at each other's tags. (Sammy is wearing Banana Republic; Rudd, J. Crew). We all, I believe, have the comforting and horrifying epiphany that all men are, at least in the short term, interchangeable. Then Politziner says, "We're three married dudes. I wonder if there's a thrill of the chase missing from our hormones that we're searching for." To which Rudd replies, "I think so." This exchange does not sound as gay as it does poignant and questioning. If you need help imagining this scenario, try drinking four pints of Guinness.
Politziner, who knew the plot of I Love You, Man two months before its release, quickly endears himself to me by asking Rudd far better questions than I was asking. When Rudd mentions playing Lisa Kudrow's boyfriend on Friends, Politziner asks, "Was she a good kisser?" Rudd deflects with "Well, I knew her husband," and then explains that TV kissing rarely involves tongue. Politziner also finds out the best ad-libbers Rudd has worked with (Will Ferrell, Steve Carell and Jane Lynch), his favorite books (Pete Hamill on New York history), where he lives (he rents an apartment in the West Village and recently bought a weekend house in upstate New York) and what he's been working on (Rudd and some friends wrote a sitcom about actor-caterers called Party Down that airs on Starz starting March 20). I am considering bringing Politziner to all my interviews, because having him there allows me to drink and text the friends I still have after getting married.
And as good as Rudd is at being interviewed, he's not bad at interviewing either. Politziner, it turns out, once worked as a waiter at Café du Monde in New Orleans, watches The Bachelor and has a Lisa Kudrow thing. These are the confessions that build male friendships. There may, or may not, be a puppy on my iPhone home screen.
After about an hour, our new friend has to leave for dinner. As we walk out into the cold with the satisfaction of men whose mission is complete, Rudd seems just as smiley as when we walked in. I get the feeling that even if Politziner had been a Clueless-hating jerk, Rudd would have been just as smiley. He's that rare, edgy, adorable leading man you could drop into any bar. Or any movie. I think he could even handle being in one with a woman.
TIME.com