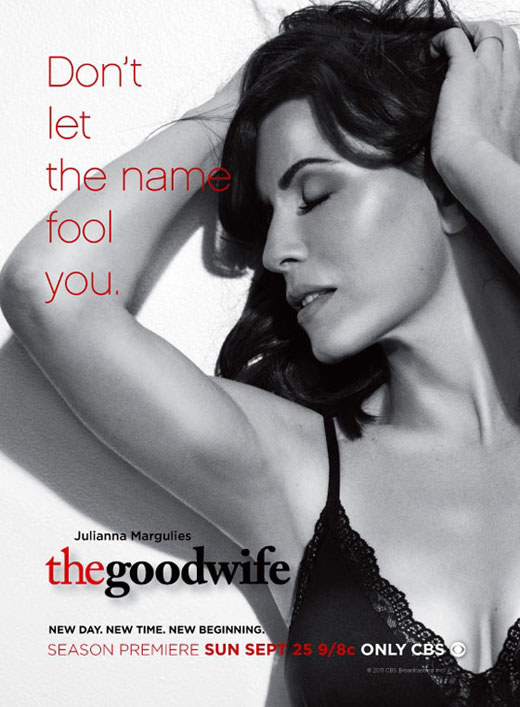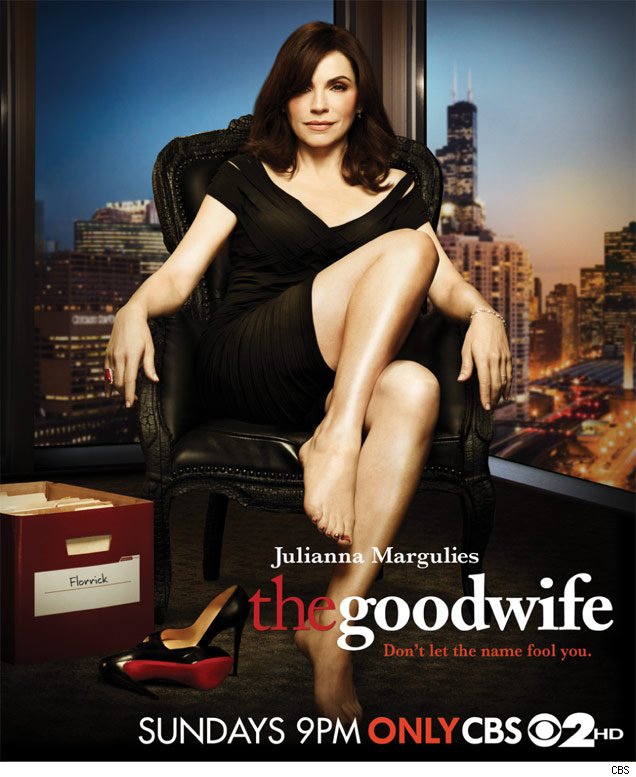 婕兮亂語:

看來《The Good Wife》第三季是越來越精彩了!

'Don't let the name fool you'
厚,婕兮可是沒被愚弄到。
期待Ali從好妻變惡妻,可不是一兩天的事。
端看接下來事情怎麼演變吧!!!

Alicia快快大解放吧~
趕快和Will雙宿雙棲!!!
P先生靠邊閃!!!
好啦,我承認我選邊站選的很嚴重。 :P
---
The Good Wife Season 3 Spoilers
By Emma Fraser
August 12th, 2011
The campaign for The Good Wife's third season has begun with a sexy promo poster and some early spoilers. With filming well underway now, more juicy spoilers are leaving the set including news on guest stars Lisa Edelstein (House) and Eddie Izzard (United States of Tara). We are also hearing that two characters will be developing a new work related relationship and another will be getting a love interest.
When it was first reported that Lisa Edelstein would be joining The Good Wife for a 3 episode arc as "a lawyer and born poker player whose sexiness is enhanced by her obvious intelligence" there was speculation that she might be an obstacle for the Alicia/Will story. It has now been revealed that she does indeed have a romantic past with Will (Josh Charles) and Edelstein talked to TVLine about this relationship and why her character Celeste, is in contrast to Alicia (Julianna Margulies):
"She really enjoys the gamble and the game of law. She's also a professional gambler. She's been playing for a long time and she has a history with Will in that world as well. So everything that she does is all about the risk, and it's really fun — especially [in contrast] to Alicia who has to be so held together. This woman doesn't have any of those rules in her life."
The rules that Alicia has in her life are in part to do with her children and because of the scandal that her husband was embroiled in. However it is unclear how the final scene of last season, when she finally succumbed to her desires will change this side to Alicia. Her children will always come first but as the promo poster suggest she will not necessarily be the 'good wife' this year.
Another guest star who will be potentially mixing it up for Lockhart/Gardner is Eddie Izzard who will be playing Abbott Thrush, an upper-class English barrister who they will be facing in a libel case. Izzard is only signed on for one episode but his character is open to return as many of the other brilliant guest stars such as Michael J. Fox have done. Izzard looks like he has been having fun on the set as this photo with Josh Charles from his Twitter account shows. Izzard is a terrific comedian and I have high hopes that the cultural differences between UK and US law procedures will be showcased in a comedic fashion.
As mentioned in the last spoiler round up piece, Kalinda (Archie Panjabi) and Eli (Alan Cumming) have never shared a scene together... well get ready for that all to change. Executive producer Robert King has confirmed to TVLine that perhaps the two most deliciously devious characters will be hooking up in a professional sense this season. Eli now works in-house at Lockhart/Gardner and will need to use Kalinda's investigative service, King explains the benefits of this:
"What's fun about the show is you get to mix different relationship cocktails. And there just seemed to be something right about Archie and Alan and the way that they would be drawn together."
So which character will be getting a love interest? Alicia's brother Owen (Dallas Roberts) is the lucky guy and Robert King told TVLine that they wanted to avoid any clichés in Owen's romantic relationships (or lack thereof):
"We wanted to [upend] the cliché of the gay brother on TV being neutered in some way. They're usually either celibate or they just broke up. You never see [a boyfriend]. But that's not who Owen is."
In Emmy related news Julianne Margulies spoke to Tom O'Neil over at The Envelope in a long and thoughtful video interview. It is worth checking out for all award junkies (like myself) as they cover everything from Margulies' ER winning days, to what episode she submitted this year ("In Sickness"), the business side of awards, the other women in the category and the debate of network vs cable in terms of drama nominations. Margulies even touches upon where she thinks Alicia is emotionally this season and her thoughts can be viewed below.
Source:
zap2it.com
tag: The Good Wife, 傲骨賢妻, 法庭女王, Alicia Florrick, Will Gardner, Julianna Margulies, Josh Charles, 美劇, 影集, CBS