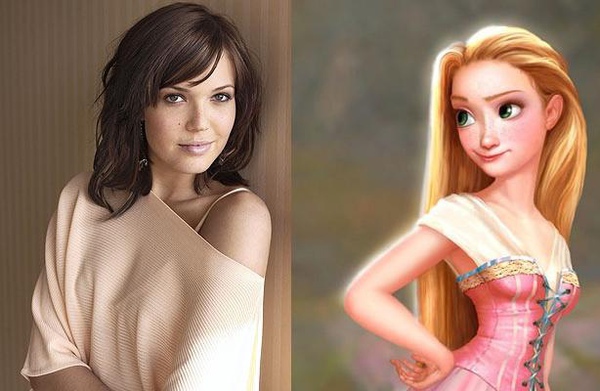 By Ruben V. Nepales
Philippine Daily Inquirer
02/05/2011
When
Mandy Moore
, who is the voice of
Rapunzel
in Walt Disney Pictures' animated film
"Tangled"
arrived at our press association's office, she was grateful for the different interview venue. "This feels like such a treat because I am used to doing interviews with you in some stuffy hotel room," the singer-actress said.
In "Tangled," Mandy and her fellow voice talents,
Zachary Levi
(as Flynn Rider—wonderful surprise—the dude can sing) and
Donna Murphy
(glorious voice) get to sing compositions by
Alan Menken
that are great additions to Disney's treasure trove of songs. In our encounter, Mandy, who began as a teenage singer with hit albums, discussed those early years and life with her husband, singer-songwriter
Ryan Adams
. "I'm a big fan of his," she gushed.
---
So how's married life?
Married life is absolutely wonderful. It far exceeds my wildest expectations. Life is good. I feel lucky to have my best friend in an incredibly supportive foundation at home. It has brought me such a lovely sense of peace and security into my life. But it's also nice to have that connection with my partner being able to share that deep-seated passion that we both do for music. It's nice to have that at home. There's always an air of creativity at home. No complaints for sure.
What do you like about "Tangled's" take on the Rapunzel fairy tale?
We know about this maiden trapped in a tower, the let-down-your-hair thing and she's waving the flag for the prince to come and save her. But the twist on the story is that we turned it on its head. Rapunzel certainly needs Flynn's assistance to leave the tower and to embark on this adventure. But she's not asking for anyone to save her. In fact, she's the one who ends up saving his tail most of the time.
How did you relate to Rapunzel as a child?
I was never one who longed for someone to save me or have that fairytale princess moment in my life. I was always independent.
Your character is an 18-year-old who led an incredibly sheltered life. You started much younger and you were afforded the opportunity to go out so can you talk about having seen the world at such a young age. How do you think that informed who you are today?
On the surface, I could kind of relate to Rapunzel because although I lived this other worldly life at a young age and definitely wasn't living the stereotypical life for someone my age, I still felt that I was quite sheltered from some of the influences that I needed to be sheltered from. I had my family. I had really good people around me but I know that my experience of being home schooled and not having this social experience that my peers had, did really shape who I am. I often think how my life would have been different had I continued going to high school and going onto college. It's hard to imagine.
Among a lot of young girls who started in the music business the same time as you did, you have led the most "normal" life. You haven't been tabloid fodder or had the big drug experience. How did you manage to avoid these trappings?
The only thing I can speak of is my own experience. I would just say it's probably a testament to my family. That's all I can think of. That's what keeps me sane, that's what keeps my feet on the ground. I don't know beyond that. Beyond being boring and just not really interested in what else is out there beyond work, I could always make the clear delineation between working and my personal life. I understood how lucky I was to have this opportunity. I wanted to take advantage of it but never take it for granted and certainly never wanted to put myself in a position that would somehow take it all away from me, too.
What kind of a teenager were you? Were you the rebellious type?
I wasn't. I wasn't a rebellious teen. I had mom and dad with me on the road when I should have been pushing them away. But I did get to the point maybe when I was around 19 or 20 years old where my whole family lived out here in a house that I bought for us all to be together. But eventually, the time finally came when I was ready to stretch my legs.
With so many aspiring actresses who struggle and with a few years of perspective, how did it come easy to you?
As I sit here at 26, I feel blessed to have had some time to reflect on my life and appreciate everything that's come my way. I started out when I was 14. When that ball started rolling, it just kept going and going and very luckily, on my behalf. Perhaps things came easily in the beginning but that's not to say that it doesn't require effort and work and coming up against challenges now and over the last couple of years. I feel very grateful and very appreciative for everything I've been able to do. But it's not without sacrifice and it's not without hard work and even sitting here today, I love the projects that I've been able to be a part of.
But I am so ready to challenge myself in ways that I haven't been able to do yet and it's difficult. It's difficult for people to see outside of the confines of who they think you are. I'm struggling against that because I am actually someone completely different. It's limiting in the sense that I'm unable sometimes to get into the door to do something different. So I'm excited for whatever is next and whatever is around the corner that will allow me to grow as an actress.
Actors have a whole staff of people. How about you as a young homemaker? What do you do at home?
Funny, we were actually just talking about this earlier today. No staff at our home. I'm not a great cook so my husband does most of the cooking. But I love cleaning. I love the whole cleaning aspect of things and it's funny that even my parents remark now when they come and visit like, "You're so domesticated, Mandy." It's like a totally different side of me has opened up.
Source:
Inquirer Entertainment
---
I am a boring homebody: Mandy Moore
Wednesday, January 26, 2011
Hollywood actress Mandy Moore thinks she is a 'boring homebody' and cites her stable family background as the reason behind it.
The 26-year-old star, who shot to fame as a singer at the age of 15 credits her family with helping her stay grounded and avoid the trappings of fame.
"I am boring first and foremost. I'm a boring homebody. You know what? I always like to think that I owe so much to my family.
"I love my parents - I have a really great, strong support system in my family and always have, and my parents sacrificed so much for me to be able to realise this dream that I had at a real young age," Moore said.
The A Walk to Remember star, who is married to musician Ryan Adams, loves to stay busy with work, but likes to hang out to avoid getting trapped into the showbiz lifestyle, Femalefirst reported.
"Being busy with work certainly keeps me grounded but then also realising the lineation between working and still having a private life, a personal life for yourself. Finding that balance I think is essential in having some semblance of groundedness in your life," she added.
Source:
NDTv.com