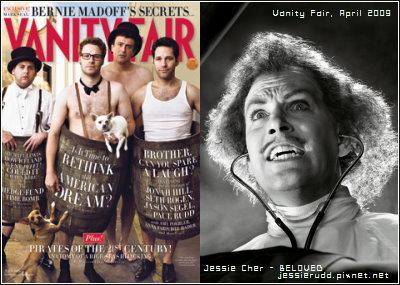 Laughing Matter: Comedy's New Legends
In these tough times, America is lucky to have the community of comic talent featured here: men and women who will band together for the perfect setup, charm laughs from their audience, and seize on just about any icon—a Founding Father, a famous artist, even a V.F. cover—as ripe for gentle subversion. From Russell Brand's Chaplin to Seth Rogen's Frida Kahlo to an all-star update of The Honeymooners, V.F.'s photographers capture a new generation's take on its favorite legends, and Jim Windolf figures out why their particular brand of funny fits the national mood.
Vanity Fair, April 2009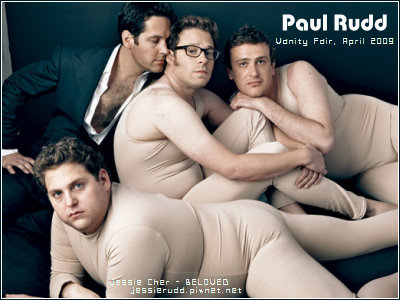 PAUL RUDD, JONAH HILL, SETH ROGEN, and JASON SEGEL, The Pretty Young Things
After appearing in Knocked Up and/or The 40-Year-Old Virgin, this quartet can now be considered summa cum laude graduates of the Judd Apatow school of comedy. Unlike so many comedy stars of the last two decades, they—and the other funny people depicted on the following pages—seem at their best when they work not as soloists but as part of a tightly knit ensemble. Say good-bye to the laughter of alienation and hello to a brand of comedy that fosters a feeling of community. Rather than dominate a crowd, they conspire with the people in the audience. Their strength lies in their charm. Even Rogen. Photographed by Annie Leibovitz (in tribute to her own March 2006 cover shot) on Stage 28 at Paramount Pictures Studio Lot, Los Angeles
---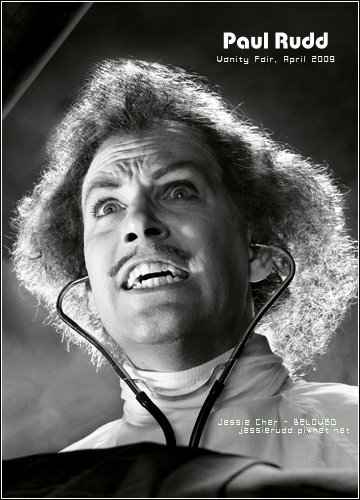 PAUL RUDD, The Role Model
Actor, writer.
It's … alive! More than that, the career of Paul Rudd is thriving. He got a lot of attention for his banter with Seth Rogen in The 40-Year-Old Virgin ("Know how I know you're gay?"), delivered with an easy manner that masks a depth of feeling. Rudd may well end up this generation's Jack Lemmon. His steady work is made possible partly by his enviable range, which allows him to play oddballs (his touched-in-the-head surfing instructor in Forgetting Sarah Marshall), romantic leading man (alongside Michelle Pfeiffer in the seriously underrated Amy Heckerling film I Could Never Be Your Woman), and at least one alienated guy (in Neil LaBute's The Shape of Things). In Monsters vs. Aliens, he voices a yuppie weatherman whose fiancée turns into a giant. In last year's Role Models, which he co-wrote, he starred as a charming misanthrope who learns, bit by bit, not to hate everyone else quite so much. With its hard-R jokes and child actors, Role Models was a strange little package, but it gave us probably the best on-screen representation of Rudd-ness we've had—at least until the upcoming bro-mantic comedy I Love You, Man, in which he plays a so-called "girlfriend guy" who needs to find a best man in time for his wedding day.
Photographed by Art Streiber in Los Angeles.
---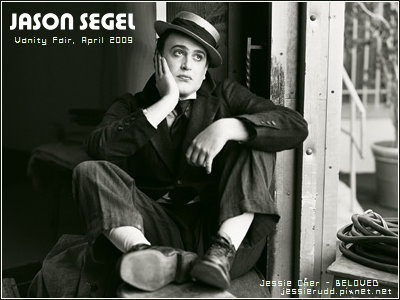 JASON SEGEL, The Loner
Actor, writer, producer, songwriter, singer, puppeteer.
The great silent-film comedian Buster Keaton got his name (bestowed upon him by Harry Houdini, according to showbiz legend) because, as a kid on the vaudeville circuit, he was willing to take a lot of physical punishment for a laugh. Jason Segel, with his quick smile and basset-hound eyes, doesn't do much traditional slapstick, but he has taken part in a few pretty devastating pratfalls—though his are of the emotional variety. Does anybody cry funnier than Segel does in Forgetting Sarah Marshall, the wonderful rom-com farce he not only starred in but wrote? Has anybody done funnier full frontal nudity than he does in the movie's infamous naked-breakup scene? This alumnus of Judd Apatow's Freaks and Geeks and Knocked Up will next appear as a slightly unhinged pal to Paul Rudd in the springtime buddy comedy I Love You, Man. Segel is also putting his scripting and puppeteering skills to use in the next Muppets movie for Disney.
Photographed by Norman Jean Roy in Los Angeles.
---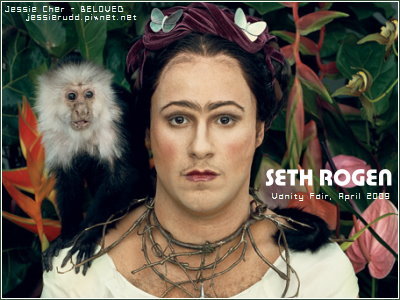 SETH ROGEN, The Auteur
Actor, writer, producer.
With his booming voice and bearish appearance, Rogen has displayed a commanding screen presence in comedy hits such as Knocked Up and Zack and Miri Make a Porno, and he may go on to achieve something like Will Smith–level celebrity when he becomes known even to grade-schoolers as a voice in the upcoming animated Monsters vs. Aliens and as the star of 2010's The Green Hornet. But the amazing thing about Rogen is that he (along with collaborator Evan Goldberg) is one of the finest screenwriters going, with Superbad and Pineapple Express to his credit. Both pictures borrow elements from the films of Quentin Tarantino and Rogen's mentor, Judd Apatow, to freshen up the action-buddy genre for a generation raised on reality TV and YouTube. Rogen is set up for another memorable year, with a part in Apatow's Funny People and a starring role as an unstable security guard in the mall comedy Observe and Report.
Photographed by Norman Jean Roy in Los Angeles.
---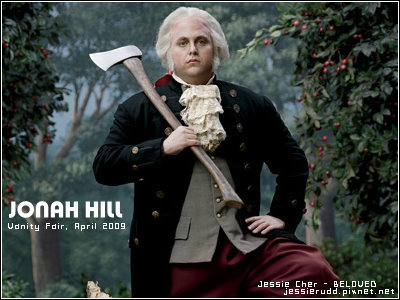 JONAH HILL, The Chopper
Actor, writer.
Even when he plays characters who tend to freak out over little things—think of his germophobic tizzy in Knocked Up's hospital scene or his anxiety attack outside the liquor store in Superbad—Jonah Hill exudes a feeling of calm. His steady gaze and deliberate, crystal-clear way with a line bring to mind Christopher Walken. And perhaps no other actor has managed to get away with talking so much filth while conveying a puppy-dog sweetness.(Were he to cut down the cherry tree of yore, he would probably say something like "I chopped it down and I'm really very fucking sorry about it.") Hill was likable even when playing the waiter with creepy stalker tendencies in Forgetting Sarah Marshall. Look for him to brighten up three movies in the coming months: Judd Apatow's Funny People, Night at the Museum: Battle of the Smithsonian, and the much-anticipated alternative-reality comedy from Ricky Gervais, This Side of the Truth.
Photographed by Sam Jones in Los Angeles
---

Behind-the-scenes video
Check more on
VanityFair.com