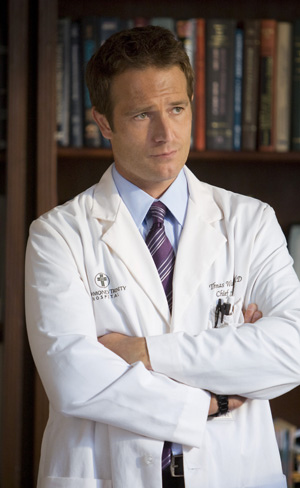 《守護伊人 HawthoRNe》第一季DVD,台灣已經發行。
《守護伊人 HawthoRNe》第二季,美國TNT熱映中。
---
HawthoRNe Hot Doc Michael Vartan Tells All
By DAMIAN HOLBROOK
TV GUIDE
The med drama HawthoRNe checks back in for Season 2 tonight at 9/8c on TNT with Jada Pinkett Smith's supernurse Christina working at a new hospital. And for Michael Vartan's hotter-than-a-fever Dr. Tom Wakefield, that could mean a prescription for romance.
Check in with all your favorite summer shows. Subscribe to TV Guide Magazine.
TV Guide Magazine:
Big changes this year, huh?
Vartan:
Yeah, it's almost like a different show. This season is really amped up. My relationship with Jada's character...those two are getting it on, and it's messy and brutal and emotional.
TV Guide Magazine:
Didn't Christina's husband just die?
Vartan:
I know. [Laughs] TV time is like dog years.
TV Guide Magazine:
And it gets messy?
Vartan:
The actual lovemaking hopefully isn't! The emotional aftermath and the toll it takes on them is. I'd like to think the lovemaking is expert and quite wonderful.
TV Guide Magazine:
So what's your take on this rumored Alias remake?
Vartan:
It seems completely preposterous to me. It's too early. I'm sure Jennifer [Garner] can still run down a hallway, and I can still shoot a gun. If they want to do it in 20 years, I'll understand, but come on!
TV Guide Magazine:
Jada, Jennifer, J.Lo — when are you gonna work with a hot chick?
Vartan:
Yeah, I am so sick of working with these "character" actresses. They're really hard to look at, and I have to create all of this chemistry that's not there.
artical source:
seattlepi.com
---
Michael Vartan Talks Taking Romantic Plunge
Ooh la la! "HawthoRNe" is doing a full court press with l'amour in the season of the TNT show launching Tuesday (6/22). According to Michael Vartan,the romance soon to break out between his and Jada Pinkett Smith's characters"feels like deep, intense love and passion — messy, dark and powerful.
"There are a lot of emotions running very deep between these characters. There is the obvious workplace conflict. There is all the history they have," he continues, speaking of his Dr. Tom Wakefield being chief of surgery and Smith's Christina Hawthorne being head of nursing at the fictional Virginia hospitalwhere the show takes place. Tom, as viewers know, was also the physician whotried in vain to save her late husband's life.
"You can either go the 'Moonlighting' route and keep the characters apart for 17 years until the audience can't take anymore, which people have come to expect," Vartan observes, "or you can take a risk and just do it right away. The writers felt that getting these two together romantically would cause so much conflict it would be interesting and good for the show. It really feels like adifferent show this season."
Will Smith hangs out on the "HawthoRNe" set a lot. What's it like doing those sexy scenes with Mrs. Smith in that regard? And how about Vartan's fiancee, Lauren Skaar?
"Oh, she and Jada are totally cool with one another," he says. "They've had their powwow, I guess. It's part of the business. It's also television — a lot tamer than features."
As far as Will, Vartan gushes to such a degree it sounds like bromance time. "I'd like to say we're best friends, but that would be me exaggerating. He's a great guy and one of the nicest guys I know — so much nicer than he needs to be, if you know what I mean. I see him around fans, he truly extends himself …I always like to spend time talking to him because I know he'll say something ridiculous that will make me laugh."
Vartan tells us that he and his beautiful blond bride-to-be, who works in real estate, have picked April 2, 2011 as their wedding date — even as his legions of female fans are adjusting to the news that the one-time "Alias" hunk is taken. "We're still looking around for the place," he says, "but it will definitely be in the Southern California area."
artical source:
BeckSmithHollywood.com
---
Michael Vartan is back for more HawthoRNe, but another Alias?
There's several changes happening in Michael Vartan's life, professionally and personally. He's back in the revamped Season Two of 'HawthoRNe' with star Jada Pinkett-Smith, and he recently became engaged. But is he ready to adopt his former 'Alias?'
After spending five seasons on Alias – as Michael Vaughn, a spy for the CIA (who was always lending a hand to SD-6, a supposed secret branch of the CIA) – as Jennifer Garner's spy partner and full-time beau (off-screen, they dated for a short time), and a short-lived season on Big Shots, last season, the French-born Michael Vartan landed on the doorsteps on the fictional Richmond Trinity Hospital, as Dr. Tom Wakefield, the Chief Of Surgery in HawthoRNe – Jada Pinkett-Smith's first foray into executive producing and starring in a prime-time cable series. Portraying Christina Hawthorne, the tough but caring widowed mother of a teen and the hospital's Chief Nursing Officer, Pinkett-Smith (wife of Will and mom to Karate Kid Jaden) won rave reviews for her performances and HawthoRNe quickly became a cable hit. As did Vartan, who ended up on several "sexiest guy alive" lists. In Season One, Dr. Wakefield always proved to be Nurse Hawthorne's strongest ally, and by the time the season finale rolled around, it was obvious there was more than just mutual professional admiration between the two. Love was definitely in the air.
artical source:
DigitalJournal.com
---
Interview with Jada Pinkett Smith & Michael Vartan of HAWTHORNE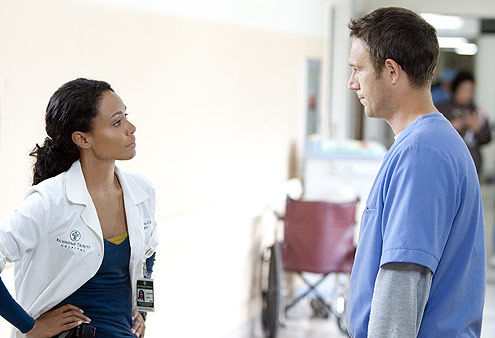 TV Tango recently participated in conference calls with Jada Pinkett Smith and Michael Vartan, the stars of HAWTHORNE, which returns for Season 2 on Tuesday, June 22, 2010 at 9pm ET/PT on TNT. Jada and Michael answered 20 questions, dishing on new storylines, the budding Tom-Christina romance, guest stars and the rumors of an ALIAS reboot.
Check out the entire interview.
Question: Jada, how did you originally hear about this role?
Jada Pinkett Smith:
I was approached by Jamie Tarses and John Masius who created the show. They gave the script to my manager and I read it. And it mirrored a very familiar part of my own life.
My mother was a nurse. She was the head nurse of this inner-city women's clinic for many years and she raised me as a single parent.
And I was a pretty rebellious teenager at the time. And so I just felt like the show had a lot of heart. And I felt like it was an opportunity for me to pay homage to all the wonderful nurses I had come across and my mother. And so I just had a lot of affinity for the project.
Question: Michael, what made you want to come back for season 2?
Michael Vartan:
The complete honest answer? This will be a two-part answer. Answer #1 is that I'm under contract and I'm obligated to come back for season 2.
Now the fun, emotional answer is that I liked my character last year because I got to work with Jada. That's the thing I always say when people ask "What attracted you to the project?" I say, "Well, Jada, to be honest with you." I mean, the character's fine, but I was really excited by getting a chance to work with her. This year, that has sort of just expanded exponentially.
So, it's been so much more fun and challenging as an actor to play my character this year because there's been so much more of that needy, really sort of intense dramatic stuff to draw upon. So, it's been very different and very fun.
artical source:
TVtango.com
---
'
Pinkett Smith learns to "movie smooch"
Jada Pinkett Smith has revealed that her co-star Michael Vartan has taught her how to "movie smooch".
The actress, who has been married to actor Will for 13 years, stars alongside Vartan in medical drama Hawthorne.
The 38-year-old has starred in films The Women and Collateral but said that she hasn't kissed another man throughout her marriage.
Pinkett Smith told People: "It was awesome because Michael Vartan taught me how to movie smooch. I had never movie smooched before because I was single when I was movie smooching so I just smooched, I just did real smooches, but I had to learn how to do a movie smooch and make it look real."
She added: "I would say the first tip of movie smooching is there is no tongue. Michael Vartan taught me how to liplock, how to do very realistic liplocking, so it looked like you're actually really kissing but you're not."
Pinkett Smith met Smith when she auditioned to play his character's girlfriend in The Fresh Prince of Bel-Air.
artical source:
DigitalSpy
tag: Michael Vartan, 麥可瓦丹, 麥可瓦頓, HawthoRNe, 守護伊人