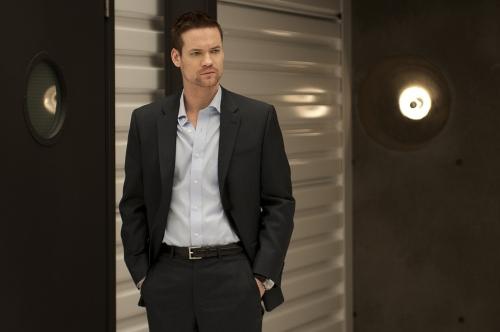 Shane West's Journey to Nikita
Shane West is animated when he talks about his role as Michael, the agent in charge of recruitment who is tasked with bringing in the rogue lead character in the CW's Nikita which premieres September 9. "Michael is a tortured soul, multi-layered and conflicted but not a bad guy," explains West, "and he cares for Nikita." He says the show is not a remake so much as a retelling of the story, a look into the characters' future.
By Tamar Abrams
September 9, 2010 02:05 PM
A quick search of the internet reveals that many of Shane West's fans are eagerly anticipating watching him on the new series. In fact, many of them would watch him do just about anything. Shane is grateful to them: "I've been very blessed during the 12 years that I've been acting that paparazzi and fans are very respectful. I guess it would be harder for someone who suddenly blew up in a film like Twilight or who is a true pop culture icon. But that's not me."
Shane West spent his early childhood in Baton Rouge, moving out to Los Angeles when he was 12 so his mother could attend law school and, he muses, to "to go to more of an offbeat city with lots of options." It was during the next few years that Shane explored the activities that would eventually become his passions. "I had a vivid imagination," he recalls. "I drew my own comic books and loved music. I was miserable at math and science." Looking ahead to life after high school, he had three potential goals: having his own band; playing college basketball; or getting a cartooning job. Not on the list was the one that quickly materialized - acting.
While a college freshman, West was called to do a WB pilot with Shelley Long called Kelly Kelly and that was shot during his final exams. He remembers thinking, "This is it. I know what I want to do." The pilot was picked up as a mid-season replacement but Shane was fired for not being funny enough. And he was put on probation at college. For most people the convergence of these events might have been paralyzing. But Shane West forged ahead. "I was slightly devastated," he says. "My parents lovingly cut me off when I didn't return to school and I didn't work for a year but I was too blissfully ignorant to be scared." He lived rent-free in the homes of his managers and got small jobs to see him through. He says he ate fast food three times a day and was down to his last $100 when his acting career finally got back on track.
Even now - after a string of successes in films from
The League of Extraordinary Gentlemen
to
A Walk to Remember
and roles on
ER
and
Once and Again
, Shane says, "Insecurity is part of being an entertainer. I know in my head I can be okay for the rest of my life but I still worry." He says it wasn't until he'd been on
Once and Again
for three years before he bought his first new car and a condo. "I know this could all be taken away," he says.
But Shane is also being proactive in his career. His strong interest in music led him to spend six years playing with the punk rock band
Jonny Was
and the past few years with the Germs. The latter came about after he appeared in
What We Do is Secret
- a biopic on the Germs' lead singer Darby Crash who committed suicide in 1980. "That film validated me as an actor. I wish it had been more widely seen but I put my heart and soul into that. The band reunited and now I'm the lead singer in real life. It was an underground success, doors opened to me in the music world - it was a landmark moment, my passion project," says Shane West. He's also started his own production company and says some remarkable scripts are coming in.
Clearly Shane West believes in taking charge of his life, even when it comes to relatively mundane details. When he moved to Toronto from L.A. to begin shooting
Nikita
, he chose to drive himself the 2186 miles. He explains, "I did a road trip and packed the car with my own pillows and blankets, eight pairs of shoes, 30 t-shirts, a video game system and other things I couldn't have taken in a suitcase." For now, he's calling Toronto home and seems happy. "I couldn't be more passionate about this business," he says enthusiastically.
Source:
HuffingtonPost.com
more NITITA trailers